Overnight Luxury Camping in Oman
---
---
These camps are completely mobile and set up either in the Wahiba sands, a secluded bay in Bander Khayran or at Fins beach. They have en-suite facilities with hot showers and a flushing toilet, comfy beds and chairs to sit and relax in. Each camp comes with its own private chef who will prepare and serve a lovely three course meal accompanied by selected beverages. Let At UB-Cool Adventure Tours our philosophy is that every trip should be a personally tailored adventure, allowing our guests to see Oman for the astounding country it is.
Wahiba Sands Itinerary
Depart your Muscat hotel and head out to Nizwa, the capital of the interior region. Here you able to immerse yourself in Oman's cultural heritage. Wander around the famous Nizwa fort and the old souk nestled under its walls. After lunch you head out to the Sharqiya region which is home to the Wahiba sands where your own private tent with en-suite facilities has been erected. Your cook prepares you a three course meal whilst you sip your Gin and Tonic on top of the dunes as the sun sets.
After a scrumptious breakfast you head to Wadi Bani Khalid, one of Oman's finest wadis. Here you are able to explore the wadi and swim in its pools before you head back to Muscat, arriving back at your hotel for late afternoon.
Bander Khayran Itinerary
Transfer from your Muscat hotel to our 50ft luxury motor yacht. You will be taken on a coastal cruise where you will view His Majesty's Al Alam Palace, Jilali and Mirani forts and Bander Khayran where you will anchor in a secluded bay with evening drinks before being transferred to your private tent on the beach where your private chef will serve you a three course meal before you relax in front of your camp fire for the evening.
You are picked up after breakfast by our 50ft motor yacht and taken out to see if you can find the dolphins that frequent the Omani waters from time to time. You will be taken back to the marina at midday where your guide will transfer you back to your Muscat hotel.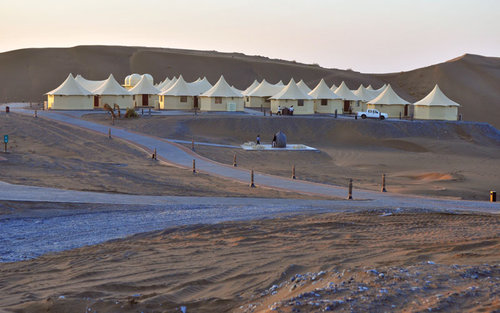 Fins Beach Itinerary
You head south east out of Muscat towards Qurriyat, a small fishing village located on the Arabian Gulf coastline, its name meaning 'villages'. Here you can view its three forts. You then head down the eastern coast road to visit the Birmah sinkhole, a spectacular limestone crater with blue-green water at the bottom, deep enough to swim in.  Moving further down the coast you are able to explore the twin Wadis of Tiwi and Shab where you can clamber over boulders and swim in its pools. And then it's on to Fins beach where your luxury tent is already pitched. You will enjoy your dinner on the beach before relaxing in front of your camp fire to the sound of the ocean waves.
You leave your camp after breakfast and head to Sur where you have the opportunity to wander around the Dhow boatyard where the famous boats are still made today by using traditional methods. You head away from the coast and into the Sharqiya region, home to the Wahiba sands and Wadi Bani Khalid. You will relax and swim in this fantastic wadi before driving into the sands to enjoy an awe inspiring sunset over the sand dunes before heading back to your Muscat hotel for early evening.
Tags:
Luxury Camping
,
Oman
,
Overnight